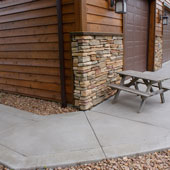 Concrete paths are the perfect access solution for your home, they provide a firm, flat surface for day to day walking, e.g. from the home to the clothesline, or from a carport to your home entrance.
Maintenance is easy and concrete also prevents trafficking dirt, mud and sand to your living areas, making your home easier to clean.
Footpaths can be installed around your garage, carport, spa, pool, gazebo, bbq area, outdoor entertainment area and side passage area.
Your footpath can go directly to its destination or it can meander to a destination in a more scenic manner.
A concrete path is more accessible, practical, and durable, offering a more easy care alternative than other options. It lends itself to many design applications to enhance your open areas.
Please call us for a no obligation free quote. No pressure selling just good service.
Call Tony now on – PH: 1300 271 679.